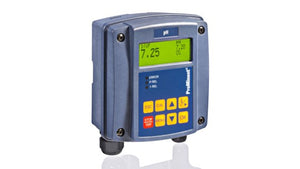 Compact yet fully equipped - the basic water analysis unit
As a controller in water analysis, the DULCOMETER® Compact is the correct controller for control tasks that require only a 1 way control.
The DULCOMETER® Compact controller is a one-channel PID controller for the measured variables pH, ORP, chlorine and inductive conductivity. It can monodirectionally control the measured variable, monitor limit values and transmit the measured value via an mA output, e.g. to a PLC. The mA output can optionally also be configured as a controlled variable output. The controller has one pulse frequency output to control one metering pump. One output relay can optionally be used as an alarm or limit value or to control motor-driven metering pumps or solenoid valves. A digital input is used to switch off the control or to process a sample water limit contact by remote control. The impact of temperature on the measurements can be provided by temperature measurement or by manual input. Menu-driven operation is language-independent.
Your benefits
Flexibility in the choice of measured variable with pH and ORP
Always the optimum measured value resolution by auto-ranging with conductivity measurement
Depending on the requirement, various display options for conductivity, such as: Conductivity, TDS (Total Dissolved Solids), salinity and specific resistance
Safety through sensor monitoring of pH for glass breakage and line breakage
Various installation options: wall-mounted, installation on an upright or in a control cabinet
Field of application
Measurement and control of water parameters in industrial and process water treatment plants
Permeate monitoring in reverse osmosis systems
Measurement and control of the hygiene parameters in swimming pools
Technical Details
Measured variables: pH, ORP, chlorine, conductive and inductive conductivity
Method of installation, degree of protection: Combination housing (wall mounting, control panel mounting, pillar assembly) IP 67, control panel IP 54
Measurement: 1 measuring channel, temperature compensation for conductivity and pH
Control: PID controller, monodirectional controller (e.g. with pH acid or alkali)
Control inputs: 1 digital control input
Technical Data
Measuring range

pH: 0.00 ... 14

ORP: -1000 ... +1000 mV

Chlorine: 0.05 ... 5 ppm, intermittent metering up to 10 ppm, max. 12 h

Conductive conductivity: 0.5 µS/cm ... 20 mS/cm (auto-ranging)

Inductive conductivity with ICT 1: 200 µS/cm ... 1000 mS/cm (auto-ranging)

Inductive conductivity with ICT 2: 20 µS/cm ... 2000 mS/cm (auto-ranging)

Inductive conductivity with ICT 5: 200 μS/cm ... 2000 mS/cm (auto-ranging)

Resolution

pH: 0.01 pH

ORP: 1 mV

Chlorine: 0.01 ppm

Conductivity: 0.1 µS/cm (depends on the measuring range)

Accuracy
0.5% of the upper range value
Temperature compensation range
0 ... 120 °C, chlorine 1 ... 45 °C
Control
Monodirectional PID control with selectable control direction
Inputs

Sensor input for the relevant measured variable

Temperature sensor input: pH: Pt 1000, chlorine and conductivity: Pt 100/ Pt 1000

1 digital input as a remote control input for the functions pause control / sample water fault

Outputs

1 pulse frequency output for the control of metering pumps

1 active 0/4…20 mA output configurable as a measured or control variable, max. load: 400 Ω

1 output relay used as a changeover contact, can be configured as an alarm, limit value or pulse width-modulated control output for motor-driven metering pumps

Cell constant, conductive conductivity
0.05 ... 12.0 cm-1
Voltage supply
100 - 230 V, 50/60 Hz, 5 W
Permissible operating temperature

-10 ... +60 °C

Enclosure rating

IP 67, based on NEMA 4 X Indoor

Dimensions

135 x 125 x 75 mm (H x W x D)

Weight
0.5 kg
Reviews
Can't see what you want ?
This is the product you are interested in but you need a different specification then contact us on
0917 310 6228