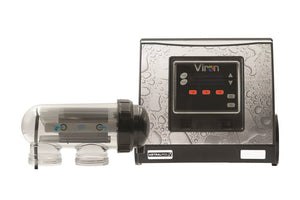 AstralPool's Viron Salt Chlorinator brings a new benchmark in efficiency, control, convenience and reliability. With an easy to use touch pad, intelligent self cleaning of the cell, pool or spa sanitiser dosing control and also a filter backwash timer, you can't go pass the Viron Salt Chlorinator to make your pool healthy and enjoyable.
• Energy-efficient switch mode power supply.
• Robust and reliable construction.
• Intelligent self-cleaning for long life.
• Touch pad and time clock control.
• Bluetooth control with Chlorinator GO App.
Reviews
Can't see what you want ?
This is the product you are interested in but you need a different specification then contact us on
0917 310 6228