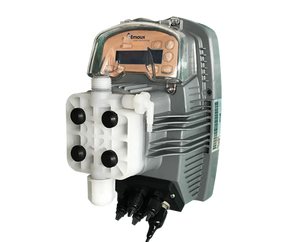 INTRODUCTION
MEASURE AND DOSING AUTOMATICALLY
For measurement of the PH, Redox / ORP value
High-Tech Microcontroller
The automatic monitoring system measures the PH value and Redox / ORP value of water through the relative voltage of probes. Total control & dosing through the desired set-point. With a compact structure, nice design, professional recognition, easy to install and operate. Digital metering pump with pH/Redox control meter on board. Adjustable manual control with proportional dosing flow rate, for the right pH & Redox management.
FEATURES
1. Significant number of metering pumps, 16-word dual-line LCD screen, full workingstatus
2. Display automatic recording and storage
3. Built-in pH / ORP monitor, or dosing only
4. Automatically pump flow control is determined in accordance with Monitor pH/ORP value
5. PH, ORP, flow and other automatic / manual calibration
6. With level gauge input interface, low level alarm
7. Flow meter input telematics control
8. Password protection

WORKING FEATURES 
The dosing pump is activated by a PTFE membrane mounted on a piston and electromagnet. When the piston of the electromagnet is attracted, a pressure is produced in the pump body with an expulsion of liquid from the discharge valve.
Once the electric impulse is finished a spring brings the piston back to the initial position, with a recall of liquid through the suction valve. LED indicators control panel to monitor the dosing pump, with electronic microcontrol technology.
Easy operation without lubrication requested, is almost maintenance free. Note: CTRL series of dosing pumps are based on high-tech electronic microcontroller, strong & reliable components to manage pH or ORP parameters.
Reviews
Can't see what you want ?
This is the product you are interested in but you need a different specification then contact us on
0917 310 6228