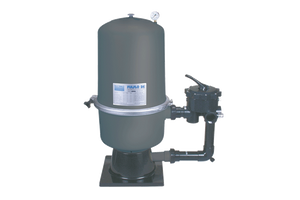 The ultimate in pool water clarity
DE filters are the most effective form of domestic pool filtration available, guaranteeing the ultimate in pool water clarity.
FULFLO DE The secret behind the effectiveness of DE filters is the filter media itself. Water passes through extremely fine, highly porous Diatomaceous Earth (DE) which filters out the finest particles. Diatomaceous earth is a porous powder with microscopic openings, that, when magnified, look like tiny sponges. Clear water can pass through these openings, but particles, as small as one to three microns, are trapped during the first pass through the media. D.E. filters have internal elements that become coated with D.E. It is this 'filter cake' that strains dirt, dust, algae, and some forms of bacteria from the water.
Construction Made from specially engineered polymers, the Fulflo DE filter's outer casing is capable of withstanding the highest pressures your pool is likely to provide. It also has a unique and convenient split ring design for easy cleaning. The heart of the Fulflo DE filter is the septum, comprising 10 polypropylene covered grids. These grids are spaced far enough apart to prevent the DE clogging while still allowing backwashing to be 100% effective.
Maintenance The long-lasting smooth poly-propylene fabric used in the filters ensures lower start-up pressures and longer filter cycles. DE is renowned for its nonbinding properties which help in the backwashing, thus the poly-propylene grids can be rejuvenated even if the filter has been neglected.
Reviews
Can't see what you want ?
This is the product you are interested in but you need a different specification then contact us on
0917 310 6228