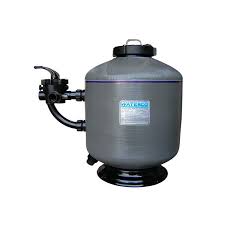 Micron Fibreglass Filters Micron filters operate on the basis of "depth filtration"; dirt is driven through the filter bed and trapped in minute spaces between the particles of filter media allowing the cleansed water to pass through the filter's laterals and exit via the filter's Multiport valve.
Simple Maintenance The effectiveness and efficiency of the filter is impaired by excessive build up of debris, clogging the media, which will result in pressure build up and poor circulation. Cleaning the filter simply requires turning the filter's Multiport lever from the "filter" position to the "backwash" position, which reverses the flow of water in the filter, flushing the filter bed.
Reviews
Can't see what you want ?
This is the product you are interested in but you need a different specification then contact us on
0917 310 6228