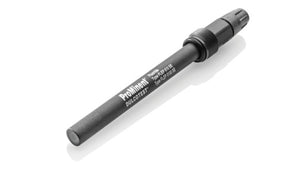 Graduated measuring ranges 0.05 – 100 mg/l
Accurate measurement of fluoride with DULCOTEST® sensors in the monitoring of potable water and waste water, suitable for pH values up to 9.5.
Reliable online measurement of fluoride – with DULCOTEST® sensors
In some countries fluoride is monitored when potable water is fluoridised, but also generally during the treatment of industrial waste water.
Our product line of DULCOTEST® fluoride sensors provides two types of sensor, optimised for these applications.
The sensor consists of a fluoride transducer, the connectable transducer of a reference electrode and a separate temperature measuring unit. The sensor is based on the potentiometric measuring principle with the help of an ion-selective electrode (ISE) and a reference electrode.
The measuring point is available fully mounted on our measuring and control system DULCOTROL® with the sensor fitting and controller DULCOMETER®diaLog DACa.
Your benefits
Precise, real-time potentiometric measurement for efficient process control (short response time)
Can be used up to a pH of 9.5
Selective LaF3 crystal eliminates faults caused by cross sensitivities
Rapid external temperature compensation eliminates faults caused by influence of temperature
Potentiometric principle prevents faults caused by flow changes
Potentiometric measuring principle enables quick commissioning
Field of application
Monitoring of fluoride in potable water. In some countries it is standard practice to add fluoride to drinking water to prevent tooth decay.
Monitoring discharger limit values in industrial waste water, e.g. in the semiconductor industry
Technical Details
pH value: 5.5…9.5
Temperature: 1…35 °C
Pressure: max. 6 bar, 3 bar (30 °C)
Fluoride Sensor FLEP 010-SE / FLEP 0100-SE
Highly selective, online fluoride sensor, optimised for the fluoridation of potable water and monitoring of waste water with a pH of up to 9.5
Your benefits
Highly selective measurement of fluoride by LaF3

 

single crystal silicon
Unique pH range of up to pH 9.5 by optimisation of the electrolyte
Two measuring ranges available: 0.05 -10 ppm for potable water; 0.5 -100 ppm for waste water
Measured variable
Fluoride ion concentration
Reference method
Photometrically (Photometer DT2C)
Measuring range

With measuring transducer FPV1: 0.05...10 mg/l

With measuring transducer FP100V1: 0.5...100 mg/l

pH range
5.5 … 9.5
Temperature
1 … 35 °C
Max. pressure
7.0 bar, (no pressure surges)
Min. conductivity
100 µS/cm
Shaft diameter
12.0 mm
Fitting length
120 mm
Thread
PG 13.5
Electrical connection
SN6 plug-in head
Enclosure rating
IP 65
Installation
Bypass: open outlet or return of the sample water into the process line, inline: direct installation into the pipework; fixed or replaceable (replaceable fitting), tank, channel: Immersion in the immersion tube
Intake flow
10…200 l/h
Flow
20 l/h (recommended)
Response time T95 max.
30 s (for conc. > 0.5 ppm)
Shelf life
6 months
In-line probe fitting
Bypass fitting DLG IV
Measuring and control equipment
D1C, DAC, DULCOMARIN®
Typical applications
Monitoring the fluoridation of potable water in waterworksWaste water
Resistance to
Disinfectant, solids content (turbid types of water)
Measuring principle, technology
Direct potentiometric measurement, 2 electrodes, gel electrolyte, ceramic diaphragm, separate temperature measurement for temperature compensation needed
Reviews
Can't see what you want ?
This is the product you are interested in but you need a different specification then contact us on
0917 310 6228