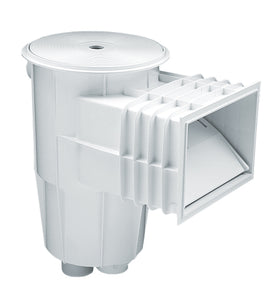 All of the components that are exposed in this range of skimmers come with a UV treatment.
• Made of ABS, they come with a weir flap and a flow regulator check valve.
• Bottom suction nozzle connection: 11/2" inner thread, 2" outer thread.
• Simultaneous connection to the main drain: Ø 50 mm inner wall.
• Overflow connection: Ø 40 mm.
• Leaf trap.
• Recommended flow rate: 7.5 m3 /h.
• It is recommended that one skimmer be installed for every 25 m2 of water surface area.
• All skimmers come in two different models: the model with inserts and the PARKER model, which is supplied with self-tapping screws