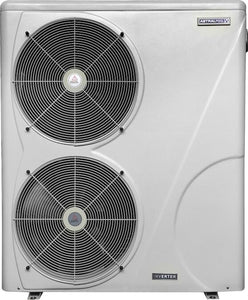 A heat pump with an "A" energy rating for outdoor pools. It comes with inverter technology and is Fluidra Connect-compatible. It has been specially designed to obtain good performance in harsher climates. In addition, it runs in power-saving mode to achieve better energy efficiency, makes less noise than other heat pumps
and can be used all year around.

Technical features:
• "A" energy rating, which can make savings of up to 33%.
• Inverter technology, which automatically changes the power setting so that the heat pump runs at optimum efficiency levels.
• Fluidra Connect-compatible through a Modbus connection to the Fluidra Connect platform.
• A soft starter prevents current surges when the compressor starts up.
• Lowest outdoor air working temperature of -20 ºC, designed to work in cold climates.
• The reverse cycle defrosting system makes defrosting faster.
• Heating and cooling modes, thanks to the four-way valve.
• Electronic expansion valve for enhanced COP performance.
• R-410a refrigerant gas, free of agents that damage the ozone layer.
• ABS plastic housing, which prevents corrosion.
• Titanium exchanger with twisted tube for enhanced performance.
• High- and low-pressure flow meter and pressure switch.
• Modbus-compatible.
Accessories included: Winter cover, anti-vibration brackets, drainage connection, screen watertight box, 10m screen connection cable, hydraulic connection fittings and Modbus signal cable.
DOCUMENT DOWNLOADS:
Reviews
Can't see what you want ?
This is the product you are interested in but you need a different specification then contact us on
0917 310 6228