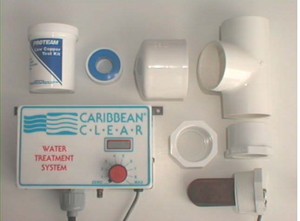 STANDARD FEATURES
The model 50-R is a popular residential model
for most in-ground and large above ground pools. It
features a digital display of ion current.
POWER SOURCE:
110-120/220-240 VAC
0.35/0.19 amps AC
CABLE LENGTH:
Power 6 feet
Electrode 6 feet
OUTPUT:
9 set points plus true zero.
0-0.62 amps at 0-18VDC
ENCLOSURE:
Painted aluminum enclosure (white)
7.4W x 4.7H x 2.3D
ELECTRODE CHAMBER
(schedule 40 white PVC)
2" sst tee [PVC-T-2X2X2]
Two 2"x1-½" ss bushing [PVC-BUS-2X1½ ]
2" threaded plug with cable (factory installed)
2½" slip cap [PVC-CAP-2½]
ELECTRODES
One pair R1 residential [ELE-R1]
( 93% copper / 7% silver)
OTHER
1 roll teflon tape [ACC-TAPE-TEFLON]
1 copper test kit [TES-CU-GIRVAN]
1 manual [ONR-MAN-50-R]
Reviews
Can't see what you want ?
This is the product you are interested in but you need a different specification then contact us on
0917 310 6228