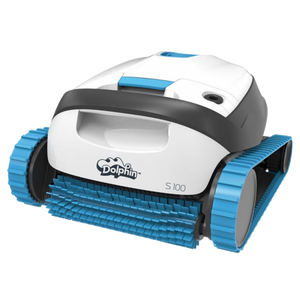 Dolphin S100. Designed for your needs.
Dolphin S100 is the new and advanced ultra-lightweigth robot from the Dolphin S series. Its ergonomic design makes it easier to handle and its top access filtration system assures effortless maintenance. This is the reason why Dolphin S100 is the superior pool cleaning robot designed specifically for you and your needs.
Specifications
                  Pool Size: Up to 33ft
                  Coverage: Advance scanning software and navigation system that ensures most efficient                                route and full coverage of pool floor and walls.
                  Filtration: Easy clean net basket. Fine and efficient filtration system with quick, no mess filter                          washing.
                  Cleaning Cycle: 2 hours
                  Water Release: Fast, debris-free water release.
                  Brush Spin: Active brush 2x the speed of the robot.
                  Warranty: 24 months
Reviews
Can't see what you want ?
This is the product you are interested in but you need a different specification then contact us on
0917 310 6228