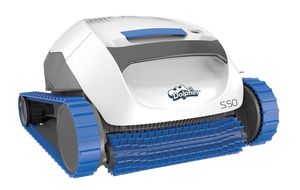 Let the Dolphin S50 do the work for you!
Bringing you more than 30 years of experience in robotic pool cleanning is the introductory robot of Maytronics' Dolphin S series. The Dolphin S50 is a lightweight, small robotic pool cleaner that scrubs your pool floor and scoops out dirt and leaves. Dolphin S50 is also a self learning robot that can adapt to pool structure and surface. Let this robot do all the hard work for you while you enjoy swimming in clean and clear water with your friends and family.
Specifications
                 Pool Size: Up to 30ft
                 Pool Shape: Above ground
                 Coverage: Floors
                 Filtration: Multi-layer filtration, ultra-fine capture and easy clean net canister.
                 Cleaning Cycle: 1.5 hours
                 Water Release: Fast and debris-free.
                 Warranty: 24 months limited warranty.
Reviews
Can't see what you want ?
This is the product you are interested in but you need a different specification then contact us on
0917 310 6228