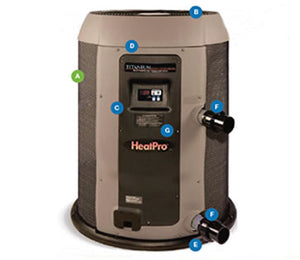 HAYWARD HEATPRO HEAT PUMPS ( Scroll Type Compressor)
For the after-market and new construction the HeatPro is the only round, compactly designed heat pump that combines excellent energy efficiency, industry leading quiet operation, easy installation and for superior value, performance and reliability, a standard ultra gold fin evaporator coil for superior coastal corrosion resistance.
Titanium Heat Exchanger - Excellent salt water and chemical corrosion resistance
Exclusive 'Ultra Gold' Evaporator Coil corrosion resistant especially in coastal areas
Quiet Operation - quiet backyard environment
AHRI Certified Performance - Independent lab certified performance ensures value of purchase
Round Design - Easily fits through gates and takes up less space on equipment pad
2in x 2 1/2in CPVC Union Plumbing Connections - Common union for installation or service, adapts to larger plumbing recommended for greater efficiencies
Lighter Weight - Less than 250 lbs.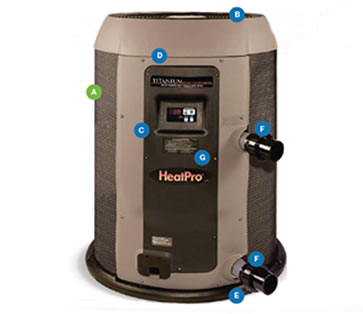 MODEL HP 21404T, 140,000 BTU, ROUND PLATFORM, SCROLL COMPRESSOR
The Hayward HeatPro 140,000 BTU Heat Pump quietly and economically maintains ideal water temperature at all times

Ultra Gold corrosion-resistant evaporator fin offers unparalleled durability, even in harsh coastal environments

Titanium counter-flow heat exchanger ensures maximum heat transfer and provides excellent salt water and chemical corrosion resistance

Profiled fan blade and heavy-duty scroll compressors ensure efficient air flow with minimal noise, making any backyard environment instantly more relaxing

Injection-molded UV-resistant body panels are impervious to corrosion and deterioration
Reviews
Can't see what you want ?
This is the product you are interested in but you need a different specification then contact us on
0917 310 6228