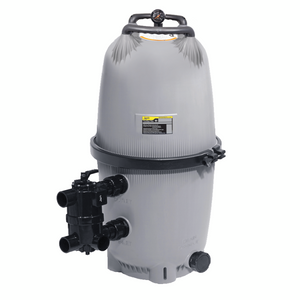 Diatomaceous earth is a natural, eco-friendly water polisher. Made of tiny fossil exoskeletons, diatomaceous earth is a safe and natural water polisher. The DEV filter traps debris as small as 5 microns, returning highly filtered water to your pool.
DEV filters have a curved grid design that creates balanced water flow throughout the filter tank, and are constructed with a heavy-duty, durable composite body made of corrosion and UV resistant materials.
• Ergonomic Easy Grip Handles The Jandy Pro Series DEV Filters feature comfortable, easy grip handles designed to make filter installation and cleaning easy
• Extra Large 2 Inch Drain The extra large drain port on the DEV filter allows for easy filter draining. Universal unions on the filter will fit most Jandy Pro Series products.
• Durable Performance DEV filters are constructed of durable, corrosion-resistant, heavy duty high-tech polymeric materials for long-lasting performance. 
DOCUMENT DOWNLOADS:
Reviews
Can't see what you want ?
This is the product you are interested in but you need a different specification then contact us on
0917 310 6228