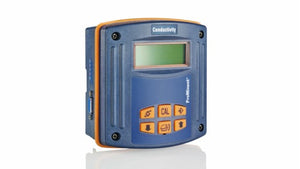 The compact 2-wire transmitter – the link to the PLC and DULCOMETER®.
The transmitter DULCOMETER® DMTa converts the sensor signals for pH, ORP value, chlorine concentration and conductivity into an interference-insensitive 4-20 mA analogue signal. Flexible, safe and always the optimum resolution of measured value.
The 2-wire transmitter DMTa converts the following sensor signals into an interference-insensitive 4-20 mA analogue signal: pH, ORP, temperature, chlorine and conductivity.
It is fed via the 2-wire analogue input of a PLC or via a 2-wire analogue input of a ProMinent controller. The 4-20 mA analogue current proportional to the measured value is transmitted via the same two lines.
The DMTa offers an on-site calibration option of the sensor and galvanic separation between the sensor input and measured value output.
Your benefits
Flexibility in the choice of measured variable with pH, ORP and temperature
Excellent operational safety, thanks to sensor monitoring (pH)
Galvanic isolation between the sensor and supply
Always the optimum measured value resolution by auto-ranging with conductivity measurement
Safety through sensor monitoring of pH for glass breakage and line breakage
Various installation options: wall-mounted, installation on an upright or in a control cabinet
Field of application
Measuring technology in water treatment in the following sectors:
Processes and process technology
Food and beverage industry
Chemical industry
Pharmaceuticals
Waste water treatment
Power station technology
Technical Details
Measured variables: pH, ORP, chlorine, temperature and conductivity
Accuracy: 0.5% of the upper range value
Correction variable: Temperature via Pt 100/Pt 1000 (pH, chlorine, conductivity)
Communication interface: PROFIBUS®-DP (wall-mounted only)
Protection class: IP 65 (wall-mounted, pipe installation), IP 54 (installation in a control cabinet)
Display: Graphic display
Technical Data
Measuring range

pH - 1.00 … 15.00

- 1200 … +1200 mV ORP voltage

0.01 … 50.0 mg/l chlorine

-20 … +150 °C

1 µS/cm … 200 mS/cm (autoranging), corresponding to cell constant

Cell constant
0.006 … 12.0/cm for conductivity
Resolution

0.01 pH

1 mV

0.1% from measurement range for chlorine

0.1 °C

Conductivity 1/1000 of display value (min. 0.001 µS/cm)

Accuracy
0.5% from measurement range
Measurement input

mV terminal (pH, ORP); imput resistance > 5 x 1011 Ω

Chlorine terminal (DMT chlorine sensors)

Pt 100/1000 terminal

Conductivity terminal (2 or 4 wire connector)

Correction variable
Temperature via Pt 100/1000 (pH, chlorine, conductivity)
Correction range
Chlorine: 5 … 45 °C, pH: 0 … 100 °C, conductivity: 0 … 100 °C
Current output
4…20 mA
Fault current
23 mA
Feed voltage

2-wire transmitter, 16 … 35 V DC, nominal 24 V

PROFIBUS®-DP version, 16 … 30 V DC, nominal 24 V

Communication interface
PROFIBUS®-DP (wall-mounted version only)
Permissible ambient temperature
0…55 °C
Climate
Relative humidity up to 95% (non-condensing)
Enclosure rating

IP 65 (wall/pipe mounted)

IP 54 (control panel installation)

Display
graphical display
Housing material
PPE
Dimensions H x W x D
135 x 125 x 75 mm
Weight
0.45 kg
Reviews
Can't see what you want ?
This is the product you are interested in but you need a different specification then contact us on
0917 310 6228