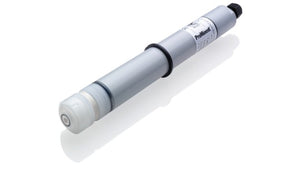 Graduated measuring ranges 1 – 2,000 mg/l
Measurement of peracetic acid concentration with DULCOTEST® sensors: Precise and reliable for disinfection in safety-sensitive applications in the food, pharmaceutical and medical industries. Can also be used in waste water treatment.
Reliable online measurement of peracetic acid – with DULCOTEST® sensors.
Our product line of DULCOTEST® peracetic acidPeracetic acid is particularly used in the food and beverage industry, but also for disinfection in ...more in the glossary sensors provides two types of sensor for different measuring ranges.
Your benefits
Precise, real-time amperometric measurement for efficient process control
Amperometric measuring means no clouding or discolouration
Use of sensors if hydrogen peroxide is present without cross sensitivity
Use of sensors if dissolved matter, surfactants and film-forming media are present without damage to diaphragm
Use of sensors under process conditions with CIP (cleaning in place) and rinsers (bottling)
Stable zero point means no drift
Field of application
CIP (cleaning in place)
Bottling
Disinfection in pharmaceutical and medical technology
Waste water treatment
Technical Details
Measuring range Type PAA 1-mA-200ppm: 0-200 ppm
Measuring range Type PAA 1-mA-2000ppm: 0-2000 ppm
Conditions of use: Temperature up to 45 °C, pressure up to 3 bar (30 °C)
Reviews
Can't see what you want ?
This is the product you are interested in but you need a different specification then contact us on
0917 310 6228