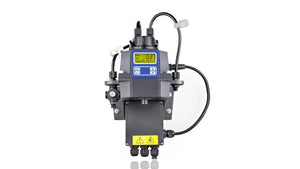 Measuring range 0 – 1,000 NTU
Turbidity measurements with DULCOTEST® DULCO® turb C: Compact measuring instrument that uses light scatter to measure turbidity, with a large measuring range and different designs to comply with ISO and EPA standards. Available with or without automatic cleaning.
Reliable on-line measurement of turbidity with DULCOTEST® DULCO® turb C measuring points
The DULCOTEST® measuring points for turbidity in the DULCO® turb C range with versions TUC 1, TUC 2, TUC 3 and TUC 4, are compact online turbidity measuring points, consisting of a sensor, inline flow fitting and measuring device. The measuring device permits the measured value to be displayed, calibration, transmission of the measured value via a 4-20 mA signal and the indication of limit value transgressions and device faults. The measuring cuvette integrated in the measuring device enable the device to operate in the bypass of the process line. The visual measuring unit does not come into contact with the sampel medium.
The intended application is the treatment of potable water, with the DULCO®turb C able to be used in all treatment stages of raw water, from filter monitoring to measurement of fine turbidity in dispensed potable water. It is also possible to monitor the turbidity of slightly contaminated process water and waste water, as well as treated water from the food and beverage industry up to a turbidity value of 1,000 NTU. Compared with the TUC 1/TUC 2, the TUC 3 / TUC 4 measuring stations include an ultrasound-based self-cleaning function. This helps in particular to extend the service intervals particularly when used with the types of water that form films.
The measuring principle is identical to light scatter measurements. The light beam that is beamed into the measuring cuvette filled with sample water is dispersed on turbidity particles and the scattered light is measured at right angles (90°) to the beamed in light (Nephelometric measurement). The measuring unit for the turbidity measurement can be given as NTU (Nephelometric Turbidity Unit) or as FNU (Formazin Nephelometric Unit). The measuring process of types TUC 1/TUC 3 (infrared light) corresponds to the globally applicable standard ISO 7027 and the European Standard DIN EN 27027. The measuring process of types TUC 2/TUC 4 (white light) corresponds to the US American standard USEPA 180.1.
Your benefits
Compact turbidity measuring station with integrated sensor, flow cuvette and measuring instrument saves space and is simple to install and operate.
High dynamic measuring range between 0.02 and 1,000 NTU permits broad-based use in all stages of potable water treatment. Also ideal for monitoring waste water from clarification plants and for monitoring ruptures with filters.
Short response times thanks to small-volume measuring cuvette.
Long-term stable measurements, even in contaminated water, by the optional ultrasonic cleaning of the measuring cuvette.
Fast and simple calibration on site by optionally available, pre-assembled and time-stable calibration standards.
Field of application
Potable water treatment, for all treatment steps: from raw water and filter monitoring to measuring fine turbidity in the potable water that is to be discharged
Monitoring of turbidity in slightly polluted industrial water, waste water and water requiring treatment in the food and beverage industry up to a turbidity value of 1,000 NTU
Technical Details
The measuring process in types TUC 1/TUC 3 (infrared light) corresponds to the global standard ISO 7027 and the European standard DIN EN 27027.
The measuring process in types TUC 2/TUC 4 (white light) corresponds to the US standard USEPA 180.1.
Technical Data
Measurement range
0 … 1,000 NTU
Accuracy
± 2% of the displayed value or ± 0.02 NTU below 40 NTU, depending on which value is the greater
± 5% of the displayed value above 40 NTU
Resolution
0.0001 NTU below 10 NTU
Response time
Configurable
Display
Multiple row LCD display with background lighting
Alarm relay
Two programmable alarms, 120-240 VAC, 2 A Form C relay
Output signal
4 ... 20 mA, 600 Ω, not electrically isolated: dual-isolated, degree of interference, overvoltage category II
Communication interface
Bi-directional RS-485, Modbus
Max. pressure
Integrated pressure regulating valve regulates 1380 kPa (200 psi), based on the flow rate
Flow
6 – 60 l/h
Temperature
1 … 50 °C
Materials in contact with the medium
Polyamide (PA), silicone, polypropylene (PP), stainless steel, borosilicate glass
Voltage supply
100 – 240 VAC, 47 – 63 Hz, 80 VA
Hydraulic connector
Black tube, inside 4.75 mm, outside 8 mm
Ambient conditions
Not suitable for operation outdoors. Maximum operating altitude 2000 m above sea level. Maximum 95% relative air humidity (non-condensing).
Enclosure rating
IP 66, NEMA 4x
Standard
ISO 7027 or DIN EN 27027 with the "Infrared" version, USEPA 180.1 with the "Achromatic light" version
Dimensions H x W x D
35 x 30 x 30 cm
Shipping weight
2.5 kg
Reviews
Can't see what you want ?
This is the product you are interested in but you need a different specification then contact us on
0917 310 6228