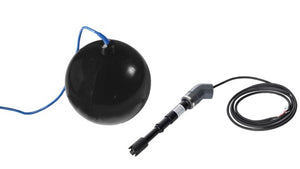 Measuring ranges: 0.05 – 10 mg/l and 0.1 – 20 mg/l
Precise measurement of dissolved oxygen with DULCOTEST® sensors – very wide range of applications, from the monitoring of water rich in oxygen, including surface water or potable water, to the reliable control of minimal oxygen concentrations when aerating aeration tanks in clarification plants.
Reliable online measurement of dissolved oxygen – with DULCOTEST® sensors
The measured variable "dissolved oxygen" indicates the volume of gaseous oxygen physically dissolved in the aqueous phase in mg/l (ppm) or the oxygen saturation of water in %. The new type DO 3 is based on visual measurement of fluorescence and can be connected to the process in an immersion pipe or in a flow fitting. It can be used to monitor water rich in oxygen, such as surface water, potable water as well as for the control of the aeration of aeration tanks in clarification plants.
Your benefits
Efficient process management by precise online measurement in real-time
A wide range of optimised connections of the sensors to the process
Minimal maintenance due to visual measuring principle with type DO 3
Maximum measuring sensitivity due to amperometric measuring principle with type DO 2
Integrated temperature measurement (Pt 1000) compensates for the influence of temperature
Diaphragm-covered electrodes for reduced dependence on flow and cross-sensitivities
Field of application
Waste water treatment: Optimisation of the oxygen input into the aeration tank (biological stage) of clarification plants for energy saving
Fish farming: Control of oxygen input in water that needs to be treated for aquaculture
Potable water supply: Optimisation of the aeration stage in waterworks
Environmental technology: Quality assessment of surface water
Technical Details
Measuring accuracy: Type DO 2: ±0.05 mg/l , type DO 3: ±0.1 mg/l
Temperature: 0 … 50 °C
Max. pressure: Type DO 2: 1 bar, type DO 3: 2 bar
Degree of protection: IP 68
Supply voltage: Type DO 2: 12 … 30 V DC, type DO 3: 18…30 V DC
Reviews
Can't see what you want ?
This is the product you are interested in but you need a different specification then contact us on
0917 310 6228