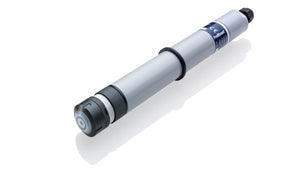 Graduated measuring ranges 0.5 – 2,000 mg/l, special measuring ranges up to 100,000 mg/l
Hydrogen peroxide measurement with DULCOTEST® sensors: Efficient and reliable method of determining the concentration of hydrogen peroxide - can be used in a wide range of applications.
Reliable online measurement of hydrogen peroxide – with DULCOTEST® sensors.
With our DULCOTEST® hydrogen peroxide sensors PEROX and PER 1, you have the choice of two types of sensor for applications with different requirements.
Sensor PER1-mA is resistant to contaminated water. A compact sensor with integrated transducer and temperature correction, it has a measuring rangeof up to 100,000 mg/l.
The PEROX type sensor has no cross sensitivity to chlorine and with its rapid response time and separate temperature measurement can be used to control fast processes in clear waters, even with the intermittent absence of hydrogen peroxide.
Your benefits
Precise, real-time amperometric measurement for efficient process control (short response time)
Amperometric measuring means no clouding or discolouration
Stable zero point means no drift
Integrated temperature compensation eliminates faults caused by influence of temperature
Diaphragm-covered electrodes for reduced dependence on flow and cross sensitivities
Short run in period for quick commissioning
Field of application
Gas scrubbers, e.g. in municipal and industrial clarification plants
Cooling circuits, e.g. in the food industry
Groundwater remediation
Potable water oxidation
Process water disinfection
Dechlorination, e.g. in chemical processes
Landfill seepage water
Biotechnology
NOX

 

oxidation
Swimming pool water (active oxygen method)
Technical Details
pH range of 2-10 (variable), can be used with constant pH up to pH 12
Sensor type PER1 available for contaminated process media
Maximum operating temperature up to 50 °C
Reviews
Can't see what you want ?
This is the product you are interested in but you need a different specification then contact us on
0917 310 6228