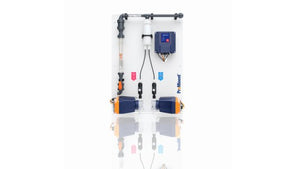 5-200 g/h chlorine dioxide. Max. flow at 0.2 ppm ClO2 metering is 1,000 m3/h
Chlorine dioxide system, which continuously produces ClO2 according to the acid/chlorite method with diluted chemicals. Extremely simple operation, clear construction, analogue control, manual control or via contacts.
Bello Zon® CDEb is winning over customers, thanks to its ultra-simple operation and clearly laid out construction.
A ready-to-use chlorine dioxide system for the continuous production and metering of chlorine dioxide with diluted chemicals. The emphasis is on ultra-simple operation and clearly laid out system design with standard components.
The stroke lengths of the metering pumps are continuously monitored. This rules out inadmissible operating statuses arising from incorrect pump stroke length adjustments.
The system is extremely easy to operate and, alongside a central Start-Stop key, also has colour-differentiated LEDs to display all the operating statuses.
The system can be controlled in an analogue or manual manner or via contacts
Your benefits
Minimal training required thanks to extremely simple operation
Minimal investment costs
Short lead times
Excellent operating safety
Simple process integration
Field of application
Municipal potable water and waste water treatment
Industrial process and cooling water
Disinfection in the food and beverage industry
Technical Details
Power supply
Inputs
1 digital input for the Pause function
1 digital input for contact water meter 0.25-20 Hz
1 analogue input 0/4-20mA
Outputs
1 alarm signal relay
1 warning signal relay
Operating substances
Sodium chlorite 7.5%, purity according to EN 938
Hydrochloric acid 9% purity according to EN 939
Particle-free water
Degree of protection
Bypass pipework
Type
Chlorine dioxide capacity*
Max. operating pressure **
Operating temp.
Connector size, chlorite and acid metering pumps
Dimensions H x W x D
Dimensions of the bypass connector
Weight
 
min.-max./hour
min./day
 
 
 
 
 
 
g/h
g/d
°C
mm
DN
kg
CDEb 30
5–30
10
7 / 8 **
15–40
6x4
958 x 700 x 250
20
23
CDEb 75
10–75
20
7 / 8 **
15–40
6x4
958 x 700 x 250
20
24
CDEb 200
20–200
40
7 / 8 **
15–40
8x5
958 x 700 x 250
20
27
| | |
| --- | --- |
| * | The metering figures relate to 5 bar back pressure and an ambient temperature of 20 °C. The minimum capacity/per hour is based on the fact that when the system is operating at below 10 % of the nominal capacity, continuous metering is no longer possible, due to the then low pumping frequency of the metering pumps. Where systems are operating continuously, change the reactor content at least 2 x daily. Do not operate at below the specific minimal output/day. |
| ** | 8 bar at maximum 35 °C ambient temperature |
Subject to technical and design changes
Scope of supply:
Bello Zon® CDEb systems are supplied connection-ready on a wall panel. Connection to the site bypass line is via DN 20 PVC threaded connectors with straight solvent unions. Order suction lances for the chemical pumps, safety collecting pans for the chemical drums and other accessories, like flushing equipment with a vacuum relief valve separately.
Reviews
Can't see what you want ?
This is the product you are interested in but you need a different specification then contact us on
0917 310 6228