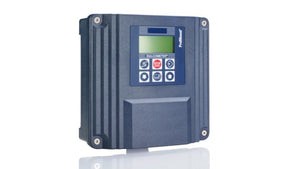 The water analysis workhorse
The D1Cb/D1Cc controller is a 1-channel P/PID controller for the measured variables pH, ORP, chlorine, chlorine dioxide, chlorite, ozone, bromine, peracetic acid, hydrogen peroxideDue to its complete biodegradability, hydrogen peroxide is a disinfectant and oxidising agent ..., fluoride, dissolved oxygenThe measured variable "Dissolved oxygen" indicates the volume of gaseous oxygen physically dissolved in the aqueous phase in mg/l (ppm). and conductivity via mA. The sensors for pH and ORP can be directly connected via coaxial cable or using the 4-20 mA sensor input. The controller can bidirectionally control the measured variables, monitor limit values and transmit the measured value via an mA output, e.g. to a PLC Programmable Logic Controller. The mA output can optionally also be configured as an interference variable output. The controller has two pulse frequency outputs to control two metering pumps (raise and lower). Two output relays can optionally be used as limit value relays or to control motor-driven pumps or solenoid valves. An alarm relay signals the occurrence of a fault. A digital input is used to switch off the control or to process a sample water limit contact by remote control. The impact of temperature on the measurements can be provided by temperature measurement or by manual input. Menu-driven operation is possible in 20 languages.
Your benefits
Flexibility through free selection of variables from all measured variables
Safety through sensor monitoring of pH for glass breakage and line breakage
Flexibly upgradable, thanks to subsequent activation option of functions by means of an activation code
Various installation options: wall-mounted or installation in a control cabinet
Field of application
Measurement and control of water parameters in industrial and process water treatment plants
Waste water neutralisation
Measurement of the pH value and the disinfection parameters in potable water treatment and in the food and beverage industry
Measurement and control of the hygiene parameters in swimming pools
Technical Details
Measured variables: pH, ORP, chlorine, chlorine dioxide, chlorite, bromine, conductivity, peracetic acid, hydrogen peroxide, ozone, dissolved oxygen and fluoride
Method of installation, degree of protection: D1Cb wall mounting IP 65, D1Cc control panel mounting IP 54, 1/4 DIN
Measurement: 1 measuring channel, temperature compensation for pH
Control: PID controller, bidirectional controller (e.g. with pH acid and alkali)
Control inputs: 1 digital control input
Technical Data
Measuring range

Type of connection mV:

pH 0.00 … 14.00

ORP - 1,000 … +1,000 mV

Type of connection mA:

Chlorine: 0.00...0.500/2.00/5.00/10.0/20.0/50.0/100.0 ppm

Chlorine dioxide: 0.00...0.500/2.00/10.0/20.0 ppm

Chlorite: 0.02...0.50/0.1...2 ppm

Bromine: 0.02...2.0/0.1...10.0 ppm

Ozone: 0.00...2.00 ppm

Hydrogen peroxide, PER1 sensor : 2.0...200.0/20...2,000 ppm

Peracetic acid: 1...20/10...200/100...2,000 mg/l

Dissolved oxygen: 0.1...10/0.1...20 ppm

pH: 0.00...14.00

ORP: 0...+1,000 mV

Conductivity: 0...20/200/1,000 mS/cm, via mA converter

Temperature: 0...100 °C via mA converter

Resolution

pH: 0.01 pH

ORP: 1 mV

Amperometric (e. g. chlorine): 0.001/0.01 ppm, 0.01 vol.%

Accuracy
0.5% of the upper measuring range value
Measurement input

SN6 (input resistance > 0.5 x 1012 Ω)

Correction variable
Temperature via Pt 100/Pt 1000
Correction range temp.
0 … 100 °C
Control characteristic
P/PID control
Control
2-way control
Signal current output

1 x 0/4-20 mA galvanically isolated

max. load 450 Ω

Adjustable range and allocation (measured variable, correction variable, controlled variable)

Control outputs

2 pulse frequency outputs for metering pump actuation

2 relays (limit value or pulse length)

Alarm relay
250 V ~ 3 A, 700 VA changeover contact
Electrical connection
90 – 253 V, 50/60 Hz, 15 VA
Ambient temperature

-5 … 50 °C

Enclosure rating

Wall mounting: IP 65

Control panel version: IP 54

Dimensions

Wall mounting: 198 x 200 x 76 mm (WxHxD)

Control panel version: 96 x 96 x 145 mm (WxHxD) (D1Cc)

Weight
0.8 kg
Reviews
Can't see what you want ?
This is the product you are interested in but you need a different specification then contact us on
0917 310 6228