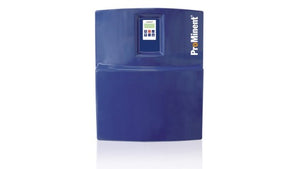 Chlorine produced from common salt. Directly on site.
Output 25 – 50 g/h of chlorine
Generation of sodium hypochlorite solution for smaller swimming pools and pools: Electrolysis system CHLORINSITU® III Compact.
Electrolysis systems of type CHLORINSITU® III Compact produce a disinfectant based on active chlorine. A saturated solution of sodium chloride is produced in a salt-dissolving tank, included in the scope of delivery, and this solution is then electrolysed in a diaphragm cell. Sodium hydroxide and hydrogen are produced in the cathode chamber while ultra-pure active chlorine and a diluted residual brine are produced in the anode chamber, separated by the diaphragm from the cathode chamber. The active chlorine produced forms sodium hypochlorite with a concentration of approx. 25 g/l in the reactor with the sodium hydroxide produced. The hydrogen generated is discharged to the fresh air through a bleed line. The salt-dissolving water comes from the integrated softener, preventing the formation of lime deposits and ensuring the long service life of the electrolysis cell. Electrolysis systems of type CHLORINSITU® III Compact are especially suitable for use with smaller swimming pools in residential properties and hotels (indoor pools with a total circulation capacity of up to 40 m3/hour, chlorinated in accordance with the DIN standard).
Your benefits
Sodium hypochlorite solution low in chloride and chlorate with a high chlorine concentration (25 g/l free chlorine)
Minimal acid consumption for pH correction, enabling savings of up to 70%
Cost-effective operation, thanks to the use of sodium chloride as an inexpensive raw material and minimal chemical consumption for pH adjustment
Robust, simple technology
Compact space-saving design, ready-mounted on a wall panel
Field of application
Swimming pool

Potable water

Cooling tower
Technical Details
The integrated microprocessor controller digitally indicates the current output and monitors all key functions.
All operating and error messages are shown as plain text on the clear display.
The output can be controlled manually, automatically (controller option) or externally.
Optional integrated chlorine and pH control
Power supply 1 x 230 Volt (VAC/1P/N/PE/50 Hz)
Scope of delivery:
Electrolysis systems of type CHLORINSITU® III Compact are ready mounted and wired for use on a wall panel. Chlorine electrolysis system with integrated microprocessor control and softener system. They include a diaphragm electrolysis cell, separate salt dissolving tank with level monitor and a level control for a storage tank (storage tank not included with the scope of delivery). A storage tank is also required as well as a metering pump for each point of injection (pump not included in the scope of delivery).
Order no.
CHLORINSITU®

 

III Compact 25
1041399
CHLORINSITU®

 

III Compact 50
1041401
Reviews
Can't see what you want ?
This is the product you are interested in but you need a different specification then contact us on
0917 310 6228