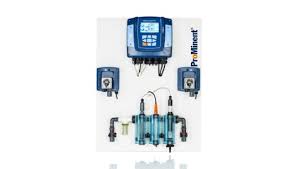 Convenient and simple: crystal-clear water in private swimming pools.
Complete system DULCODOS® Pool Comfort for pH adjustment and disinfection with liquid chlorine products. Peristaltic pumps of the product range DULCO®flex, motor-driven metering pumps type alpha or solenoid-driven metering pumps type Beta® are used, depending on demand and the circulation volume.
An integrated flocculant metering station (optional) ensures crystal-clear water.
Sensors, controllers and metering pumps form a unit with the chemical storage tanks, which can become operational without major installation work on your part.
The control device offers many deluxe functions, such as the recording of measured values on an SD memory card or remote access via the integral WEB server and LAN interface (optional).
Your benefits
Simple, quick assembly
Simple, menu-driven operation
Brilliant water quality
Versatile monitoring functions
https://youtu.be/4WegC-3Se5Y
Technical Details
2-channel controller (pH/ORP or pH/chlorine) or 3-channel controller (pH/ORP/chlorine) Splash Control Pro+

 

with measurement, control and metering functions for pH value and chlorine concentration, ready mounted on a wall plate
Integrated flocculant metering station (optional)
In-line probe housing with sample water monitoring, sample water filter and measuring probes for pH and chlorine content (DC2 for free chlorine, DC4 for free chlorine in the presence of isocyanuric acid stabiliser)
Monitoring of the chemical reservoir
Metering monitor to protect against over-metering
Data logger with SD card
Embedded web server with LAN interface (optional)
Metering pumps alpha, DULCO®flex or Beta®

 

to control the pH value and chlorine content, DULCO®flex for metering flocculant (optional).
Connector for point of injection: Injection valves with 1/2" screw thread
Connectors for metering pumps/points of injection: PVC hose 12x6 mm
Sample water connector: PVC hose 12x6 mm
Digital pause input
Alarm relay output
Electrical connection: 230 V AC, 50/60 Hz
Dimensions with metering pumps alpha or Beta®

 

and/or with "flocculant metering" option:

595 x 745 x 150 mm (W x H x D) mounting plate for measuring technology
595 x 400 x 150 mm (W x H x D) mounting plate for pumps

Dimensions with metering pumps DULCO®flex: 595 x 745 x 150 mm (W x H x D)
Weight: approx. 10 kg or 6 kg (without pumps)
Reviews
Can't see what you want ?
This is the product you are interested in but you need a different specification then contact us on
0917 310 6228