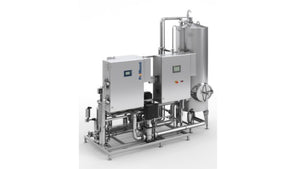 System Solution OZONFILT®Compact OMVb
Ozone capacity 20 – 70 g/h
OZONFILT® Compact OMVb is a complete, ready-to-use system solution for the generation and metering of ozone.
The perfect system solution for the beverage industry
The ozone system OZONFILT® Compact OMVb has a modular design mounted on a stainless steel frame.
A sufficient quantity and constant concentration of ozonised water is produced in the system's contact and out-gassing tank. From there, it is fed back to where it is needed. The required ozone concentration has variable settings and is continuously controlled and held constant by a measuring and control circuit. Depending on the application, the ozonised water is pumped by system pressure or with one or more discharge pumps to where it is needed.
With the removal and replenishment of water in the storage tank, undissolved ozone is safely routed outside via a residual ozone gas destructor. No ozone will escape into the ambient air in normal operation.
Your benefits
Excellent process reliability through the use of a pre-assembled, complete ozone treatment stage with perfectly coordinated components.
Fully piped and wired system on a stainless steel frame for plug-and-play connection.
Modular construction, yet nevertheless can be customized.
Compression-proof ozone generator built in compliance with DIN 19627.
Destruction of residual ozone gas for the removal of traces of ozone gas.
Room air monitoring for traces of ozone gas via a gas detector with a sensor with long-term stability.
Field of application
Food and beverage industry: Disinfection of table and rinsing water
Technical Details
Components:
Central control unit
Ozone generation
Contact and out-gassing tank
Discharge system
Ozone mixing unit
Residual ozone gas destruction
Room air monitoring
Available options:
1 or 2 discharge pumps for pumping ozonised water to where it is used
Cooling water chiller for the supply of chilled water to the ozone system
Air conditioning unit for the air conditioning of the ozone system and central control cabinet
Storage tank cleaning with built-in spray nozzle including valve combination
Ozone generation, built in accordance with DIN 19627:
The ozone is produced with an OZONFILT® OZVb in a pressure-resistant ozone generator using an electronically produced and regulated medium frequency.
Central control unit
A central control unit manages the entire process and ensures ozone metering dependent on the measured value. A touch panel visualizes the entire process, simplifying operation. A high-quality control for industrial applications permits varied signal exchange with higher-level management systems.
Ozone mixing unit:
This module comprises an ozone metering point and a downstream mixing section made of stainless steel, with a series of static mixing elements for intensive mixing of the ozone/air mix with the water to be treated. The lines carrying the ozone and the pipework from the raw water connection to the inlet to the reaction tank are made throughout in stainless steel and have been factory-pressure tested.
An injector for drawing out the ozone by suction is not needed with back pressures of up to 4 bar because the ozone is generated at positive pressure.
Contact and out-gassing tank:
The stainless steel tank incorporates all the necessary fittings for water distribution and ensures adequate contact time and efficient out-gassing.
Supply system:
As soon as the ozone concentration set point has been reached, the ozonised water is pumped on-demand to where it is needed. This is done by the feed pump or a supply system with one or more supply pumps.
Residual ozone gas destruction:
A residual ozone gas destruction unit with integral water separately is used for the safe removal of undissolved ozone gas in the exhaust air from the contact tank.
Gas detector:
The room air is monitored for ozone leaks using a gas detector with electro-chemical sensor. If the alarm threshold is exceeded, ozone generation is stopped and an alarm signaled. A buzzer is activated at the same time.
| | | | | |
| --- | --- | --- | --- | --- |
| Type TWA for filler | | OMVb TWA 20 – 1000 | OMVb TWA 35 – 1000 | OMVb TWA 70 – 2000 |
| Type: ozone generation system | | OZVb 2 | OZVb 3 | OZVb 4 |
| Volume of contact storage tank | l | 1,000 | 1,000 | 2,000 |
| Ozone output at 20 g/Nm3 | g/h | 20 | 35 | 70 |
| Nominal flow rate | m3/h | 5 – 15 | 15 – 30 | 45 – 60 |
| Enclosure rating | | IP 54 | IP 54 | IP 54 |
| | |
| --- | --- |
| Type RI for rinser applications | OMVb RI 20 – 500 |
| Type: ozone generation system | OZVb 2 |
| Volume of contact storage tank | 500 l |
| Ozone output at 20 g/Nm3 | 20 g/h |
| Nominal flow rate | 5 – 15 m3/h |
| Enclosure rating | IP 54 |
Reviews
Can't see what you want ?
This is the product you are interested in but you need a different specification then contact us on
0917 310 6228