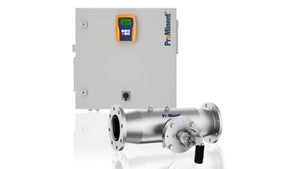 Effective solution for the treatment of swimming pool water – designed for the decomposition of combined chlorine.
The UV system Dulcodes MP is used for the efficient breakdown of combined chlorine in swimming pools, eliminating the typical swimming pool odour: no more irritation for eyes, nose and skin. Apart from improving the water quality, the lower investment costs and high fresh water and energy consumption savings result in shorter payback times.
The UV system Dulcodes MP is fitted with output-optimised medium-pressure lamps, which guarantee the efficient photochemical breakdown of combined chlorine in swimming pool water. The system is insensitive to the most adverse conditions in warm, humid plant rooms enriched by aggressive chemicals. The robust system technology remains completely unaffected by this.
Efficient cleaning of the lamp protection tubes during operation is possible with ease. The lamp protection tubes can either be cleaned by a manual wiper or by the optionally extendible motor-driven automatic wiper.
The Dulcodes MP is a compact inline system. Thanks to its flexible flange options, the system can be used with ease for different nominal widths of circulation rate. The UV reactor is designed in such a way that no UV radiation can escape from the reactor. This means that the system can be installed directly in a plastic pipe. The free choice of the fitting position simplifies installation and retrofitting in the extreme.
Your benefits
Simple installation, thanks to the compact inline system, ensures minimum installation costs and fast retrofitting.
Maximum flexibility when installing, thanks to free choice of the fitting position and direct installation in plastic pipes, as no UV radiation escapes from the reactor.
Automatic switching on and off based on the chloramine value, for example used in conjunction with the DULCOMARIN®

 

II.
Unbeatably simple and quick maintenance: all maintenance work can be carried out quickly and conveniently from one side.
Manual power control for optimum adaptation of the system to the respective capacity requirement (not for Dulcodes 1 x 0.65MP and 1MP).
Manual or automatic wiper system for the efficient removal of deposits on the lamp protection tube. The wiper system can be easily retrofitted.
Field of application
Process water
Swimming pool water
Technical Details
Integral temperature switch to monitor the water temperature in the radiation chamber.
Compliance with DIN 19643 and recommended for use in swimming pools.
Optimised use of energy, thanks to large radiation chamber and uniform irradiation of the entire water flow due to optimised system hydraulics.
Radiation chambers made of high-grade stainless steel 1.4404/AISI316L.
Long-term stable UVC sensor for monitoring the lamp output, dirt on the lamp protection tube and changes in water quality.
Powerline medium-pressure lamps with high connecting power of up to 3 kW.
Manual or automatic motor-driven wiper for the efficient removal of deposits on the lamp protection tube.
Guaranteed (pro rata) lamp service life of 8,000 hours.
Comfort controller with various options for simple integration of the plant in higher-level control systems, thanks to many analogue and digital interfaces and connectors.
Control cabinet made of painted steel.
Technical Data
* 98%/cm transmission; 600 J/m2 irradiation intensity for the breakdown of combined chlorine
** 98%/cm transmission; 400 J/m2 irradiation dose for disinfection applications
| | |
| --- | --- |
| Lamp type | Medium-pressure lamp Powerline |
| Controller type | Comfort controller |
| Permissible operating pressure | 6 bar |
| Permissible ambient temperature | 5 – 40 °C |
| Permissible water temperature | 5 – 40 °C |
Reviews
Can't see what you want ?
This is the product you are interested in but you need a different specification then contact us on
0917 310 6228