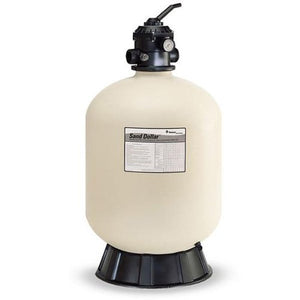 75 GPM Clear Pro technology, 26inch x 1 . 5 inch Port
REVOLUTIONARY TECHNOLOGY RE-DEFINES SAND FILTER PERFORMANCE
Traditional sand filters can only remove particles in the 50-100 micron range, but Sand Dollar Filter with patented ClearPro Technology removes particles up to five times smaller…to achieve 60% cleaner water than other sand filters. At the same time, Sand Dollar Filter is incredibly simple to operate and maintain. And, it's built with long-term reliability in mind. Stunning performance. Supreme simplicity. Superior value.
FEATURES
All the same, great features of the Sand Dollar® filters 

60% greater water clarity
Note: Max water temperature for Sand Dollar 95 degrees F
Reviews
Can't see what you want ?
This is the product you are interested in but you need a different specification then contact us on
0917 310 6228