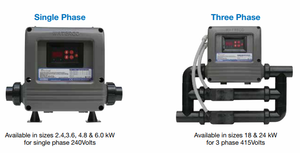 Digiheat Polymer coated heating elements Digiheat electric spa heaters incorporate the latest technology, advanced composite materials and inbuilt safety devices for dependability. Digiheat heaters are easily installed on the floor*, wall or along pipe work. Digiheat's heating elements are available with a Polymer coating that offers outstanding corrosion resistance. The coating also extends the product life and improves its heating efficiency. Polymer coated heating elements have a longer life expectancy than standard heating elements.
1. Streamline non corrosive, uv stabilized housing.
2. Digital temperature display & self-diagnosis.
3. Simple 4 button programming.
4. Built-in over temperature safety sensor to prevent overheating.
5. Adjustable pressure switch to suit individual installation requirements.
6. Polymer coated inc alloy heating element for improved corrosion resistance.
7. Quick connect unions for ease of installation and maintenance. *Three phase models require wall mounting or along pipework
Reviews
Can't see what you want ?
This is the product you are interested in but you need a different specification then contact us on
0917 310 6228